Oh my good Lord.
I can't believe I am *this* up in arms about flowers for the wedding.
I was fine before, but I've now had THREE florists tell me they're already booked for my weekend and can't take any other jobs. Eeek!
So, I'm hitting the pavement this afternoon to see if I can find someone here to help me instead of just looking online.
I have found a few bouquets I like, since I have gone from the just green color idea to incorporating more colors… these pics all came from
FlowersByAnne.com (but she's one of the florists who is already book! *pout*)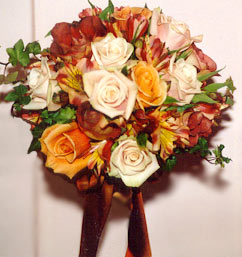 Champagne, Leonoides and Fragrant Fantasy Roses, Rust Alstromeria, Ivy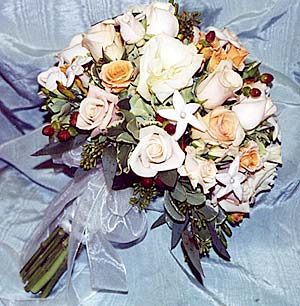 Vendella and Champagne Roses, Cantalope Baby Roses, Lisianthus, Stephanotis, Green Hydrangea, Coffee Berries, Seeded Eucalyptus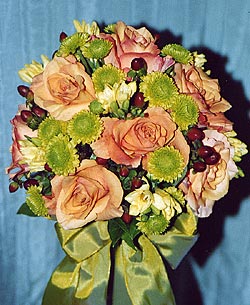 Lime-Green Mums, Fragrant Fantasy Roses, Yellow Freesia & Coffee Berries tied with chartreuse satin ribbon
(I don't like the mums in this at all… the green is too bright, and I'd most likely leave them off or replace them with a more subtle shade of green)
And this one's my favorite… I'm not sure how I feel about the mossy looking dangly stuff, but I love the colors on the bouquet itself!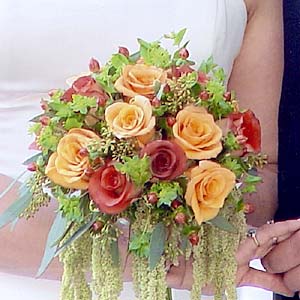 Leonoides and Milva Roses, Coffee Berries, Amaranthus, Bluperum and Seeded Eucalyptus
UPDATE! I originally typed this post up yesterday, and then had photo posting issues, so the entry itself went un-published… I stopped by a florist in Dublin yesterday, and she is available and within my price range! I'm going to get a couple more estimates before I commit, but it looks like the drama could be over! Woo hoo!